Brian Newbold
The man from the coal board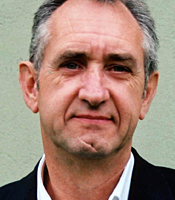 About
Brian Newbold was born and bred in Doncaster, South Yorkshire, which if you're unfamiliar with the North, is a quaint fishing village on the outskirts of Barnsley. Upon telling the careers master that he had half a mind to work for the Coal Board he received the reply... "That should be more than adequate".

During a life sentence as an engineer at British Coal, Brian developed a warped sense of humour and perfected the art of becoming invisible in the afternoon. He has become known on the speaking circuit as "The Man from the Coal Board" and has entertained the full spectrum of organisations from The Royal Variety Club to The Institute of Funeral Directors!

Since 1989 Brian has worked all over the UK and overseas, and as well as hundreds of golf clubs, sportsman's dinners, and corporate dinners, sharing the stage with many celebrities, sportsmen and even Members of Parliament, ranging from Status Quo to Sir Bobby Robson, and Jack Charlton to Austen Mitchell!

In his spare time Brian enjoys tinkering with cars and motorbikes and loves flying light aircraft, although he admits a near-fatal collision with power cables a few years ago did dampen his enthusiasm for a while!

Brian Newbold's material is suitable for all occasions and he will personalise his speech to suit your needs. (He always likes to give the Chairman a mention!)

An Irish Mother and a lifetime at British Coal have given Brian a unique sense of humour, which makes him the ideal man to round off your next social, sporting or corporate event with a laugh. He is also popualr as the after dinner speaker at many golf clubs and corporate golf dinners throughout the UK, including The Belfry and The Royal Birkdale.
Testimonials
Thank you for speaking at our dinner last Wednesday. Your contribution was a major factor in ensuring the success of the night. Many guests have since written to express their thanks and have mentioned the quality of your performance. I was also impressed at your personalisation of the material and the genuine interest you showed in the success of the dinner before, during and after it. Once again, many thanks.
Thank you very much for booking Brian Newbold on our behalf. He is a great guy and was very, very funny. Our Anniversary Dinner went really well and Brian certainly helped to make it such a success. We've had nothing but positive comments back from our guests and management team who attended. I will certainly not hesitate to recommend Brian and your company to other BUPA colleagues.
Just a few lines to thank you for your wonderful contribution to what was a memorable night for all our members and their guests. You finished a very busy evening in some style! Your stories and jokes were ideal for the audience and completed a great night for all concerned. I do hope to see you at another one of our annual dinners in the future. Thanks again!
Thank you for organising the appearance of Brian Newbold at this year's Annual Dinner in the City of London ensuring that the event was such a success. Brian was a wonderful speaker, and is amongst the most popular after dinner speakers that IOSH have used over the past few years. All of the guests I spoke to found Brian incredibly funny, none more-so than myself.
I could not have made a better choice of speaker than Brian. His stories and jokes were excellent for the mixed company and perfect for the occasion, and his tailoring of some of the material to local knowledge and top table guests clearly showed his professionalism. I thought his performance was brilliant and the feedback from others at the dinner has been nothing but praise
As Chairman, during the last twenty years or so I have attended the Dinner on most occasions and this is the first time I have witnessed a standing ovation for an After Dinner Speaker.
Brian was a great success at our Dinner last night. He hit exactly the right note for a professional dinner with ladies present.
As you know, the people of the frozen North are not usually given to offering lavish praise, particularly to foreigners from Yorkshire. Immediately after you had spoken, however, I was approached by many of those present who offered comments such as 'Best yet' and 'Superb'. Your speech made the evening. Thank you.
You may also be interested in...