Boris Becker
Tennis Legend, Commentator, Businessman & Coach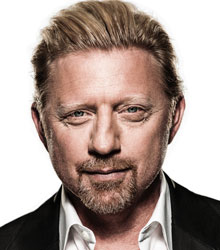 About
In 1985, a 17-year-old Boris Becker became and remains the youngest ever winner of The Championships, Wimbledon. The start to an illustrious career, Becker has gone on to win a total of 49 titles, including 6 grand slams, and a host of Olympic medals, aiding the evolvement of tennis as a national sport in his home country of Germany.

Retirement from the sport has welcomed new opportunities for Boris and new ways to showcase his expertise on all things sport. The ex-pro now appears as tennis commentator for Sky and BBC, as well as writing a sports column for The Times.

Becker is involved in a number of charitable projects, including fulfilling the role of Vice Chairman and academy member of the Laureus Sports for Good Foundation, a project the former sportsman founded. His philanthropic efforts also include the role of ambassador for the German AIDs Foundation as well as becoming a Member of the Board of the Elton John AIDs Foundation.

In 2014 Boris Becker undertook a new challenge and became Novak Djokovic's head coach. Never one to disappoint, Becker's efforts paid off and Djokovic was crowned as Men's Single Champion of Wimbledon 2014.

Becker continues to entertain and inspire audiences. An engaging, gregarious personality, he regales audiences with details of his experiences as a top international tennis player, and the lessons learned when dealing with media. Presenting in English and if requested German, Becker promises to inspire and captivate audiences.
You may also be interested in...