Boris Becker
World tennis legend and former World No.1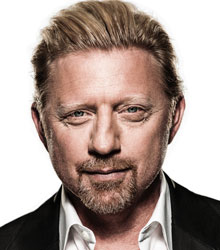 About
Boris Becker was the redheaded teenager that took the world by surprise in 1985 by winning Wimbledon - then the youngest male ever to win a major at 17 years, 7 months. He was the first German champion and the first unseeded player to win the Men's Singles Championship. In 1986 he successfully defended his Wimbledon title, stopping Ivan Lendl in the final. At 6 feet, 3 inches, Becker's game featured a big serve, heavy groundstrokes and penetrating volleys. A crowd favorite at Wimbledon, he reached the finals seven times in 10 years (1985-'95). In the 1995 Wimbledon semifinal, he defeated Andre Agassi from a set down and behind 2 service breaks to win 2-6, 7-6(1), 6-4, 7-6(1). But in the final, he couldn't overpower another young American, Pete Sampras.

Boris Becker captured 6 Grand Slam singles titles - 2 Australian Opens (1991, '96), 3 Wimbledon Championships (1985, '86, '89) and the 1989 US Open. Becker was ranked in the year-end Top 10 eleven times between 1985 and 1996. He finished his career with 49 singles titles and 15 doubles titles. He was a singles winner in the 1988 Masters event (a finalist in 1985, '86, '89), winner at the 1988 World Championships Tennis event (finalist in 1986) and winner of the 1992 and 1995 ATP Tour World Championships Finals (finalist in 1994, '96).

Boris played in the Davis Cup for Germany from 1985-1999, leading his country to victory in 1988 and 1989. His career Davis Cup win-loss record stands at 54-12, including an impressive 38-3 in singles. In 1985, he was named the ATP Most Improved Player of the Year, then four years later in 1989, he was named the ATP Player of the Year. Becker also earned an Olympic Gold in Barcelona, Spain (1992) where he partnered with Michael Stich to win the men's doubles title for Germany.

Since 2000, Boris Becker has been the principal owner of the tennis division of Völkl Inc., a tennis racquet and clothing manufacturer. Most recently, Becker announced his involvement in a new tennis academy at the Riffa Views Signature Estates in Bahrain.
You may also be interested in...