Sir Bobby Charlton OBE
1966 World Cup squad player, Man Utd player and ambassador for English football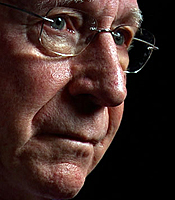 About
Sir Bobby Charlton won a World Cup medal and the European Footballer of the Year award in 1966. He played almost all of his club football at Manchester United, where he became renowned for his attacking instincts from midfield and his ferocious long-range shot.

He began to play for United's first team in 1956, scoring twice on his debut, and gained a regular place in the team after surviving the Munich air disaster the following year. After helping United to win the football league in 1965, he won a World Cup medal with England in 1966 and another Football League title with United the following year. In 1968, he captained the Manchester United team that won the European Cup, scoring two goals in the final. He left Manchester United in 1973, becoming player-manager of Preston North End, but decided management was not for him and left after one season.

After assuming the post of the director at Wigan Athletic F.C. for some time, he took on his current position as a member of Manchester United's board of directors in 1984.

Awarded the OBE in 1969 he has since become a C.B.E., and was knighted in June 1994. A former Manchester United and England captain, Bobby Charlton has become a respected ambassador for English football.
Tags for Sir Bobby Charlton OBE
You may also be interested in...