Bill Giles OBE
Former Senior BBC Weatherman and Head of BBC TV Weather Centre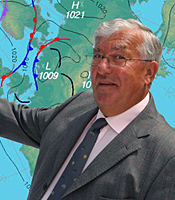 About
Seasoned weatherman Bill Giles was, until recently, the Head of BBC TV Weather Centre.

He was born in Dittisham, near Dartmouth, Devon in 1939 and became interested in meteorology while still at school. After studying at Bristol College of Science and Technology he joined the Meteorological Office at Exeter and one of his first projects was to visit Christmas Island in the south Pacific to observe the immediate meteorological effects of the H-bomb tests.

In 1961 he was sent to Germany to work as an observer with the RAF, and later on he worked as a lecturer at the Met Office's training college.

His broadcasting career began in 1972 when he transferred to the London Weather Centre to become part of the team forecasting for BBC Radio. He moved into television forecasting in 1975. In May 1983, on the retirement of Jack Scott, he took charge of BBC Television's forecasting team and in 1991 he became head of BBC Weather Centre. His responsibilities covered network BBC1 and BBC2 and regional BBC South East TV, plus network Radio 3, 4 and some of the Radio 5 weather bulletins. His team also produced TV forecasts for the troops in areas such as Germany, Cyprus and Gibraltar and for BBC's World Service Television (WSTV). The BBC Weather Centre produces nearly 15,000 weather broadcasts per year, which amounts to around 430 hours of television and radio.

Bill recently won the Scientific Prize at the International Weather Festival in Paris, which is awarded for the best presented weather broadcast. He was awarded the OBE in the 1995 New Year Honours List and was the subject of This is Your Life early in 1988.

October 1990 saw the publication of Bill's book The Weather Story. He has also developed his own one-man light entertainment The Weather Show, which he has taken to arts centres and theatres around the country, when he provides an insight into the mysteries of forecasting and offers a glimpse behind the scenes at the kind of things that can go wrong. He is a popular after dinner speaker and lecturer, covering topics from a humorous look at global warming to how the weather has changed history.

Bill lives in Oxfordshire with his wife Maureen and his hobbies include golf, cricket and gardening.
You may also be interested in...