BarWizards
Unique and highly entertaining bar wizardry (Britain's Got Talent Finalists)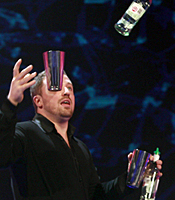 Copyright © Ken McKay
About
Neil & Neil, AKA 'The BarWizards' are international celebrity bartenders to the rich and famous and were finalists in Simon Cowell's 'Britain's Got Talent' (2007).

The BarWizards devised a show which is leaving audiences astounded with both their technical skill and sense of fun. After performances in over 50 countries over the last 10 years the BarWizards decided to develop a new flair show, hoping to bring something new to the entertainment market.

The flair extravaganza sees the BarWizards perform a 'Tom Cruise' style flair show, choreographed to music. Flipping, spinning, throwing, catching, shaking and pouring their way through a jaw-dropping routine using bottles, tins, glasses, and bar equipment in this unique act.

The show is real crowd pleaser - and is perfect to use as an atmosphere enhancer, changing the mood of an event by whooping your guests into a frenzy. The act is most suitable as an after dinner cabaret stage show, perfect for adding something memorable to your event, or attracting attention at PR events.

The show can be performed almost anywhere, provided the stage is a reasonable size and audiences can see. You have the option of choosing an interactive addition to the show - where a guest will be picked to join the BarWizards on stage and help with their flair routine!
Testimonials
Just amazing. I have never seen anything get a crowd going quite like it, and what really lovely people.
You may also be interested in...