Andy Kane
Popular DIY expert from BBC1's Changing Rooms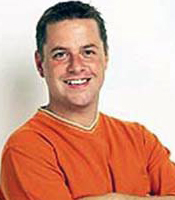 About
Andy Kane was transformed into television's best known DIY man by sheer chance. He was busy using his years of training and skills as a carpenter and joiner on a job at the home of a BBC designer when she invited him to take part in a new series. Her producer was looking for a general handyman, to appear alongside Carol Smillie and a team of interior designers. Andy thought she wanted him to build the scenery!

The programme was BBC2's top rated Changing Rooms. Now into its thirteenth successful series, it has moved to BBC1, with Andy as a permanent part of the team. The nickname, "Handy Andy" was his wife's idea.

His down to earth approach and South London banter has led to him providing advice on basic tasks around the home in One To Three on Sky One. He also recorded two series of the popular BBC1 daytime show, Change That, where he turned designers' ideas into reality in a round the country DIY roadshow.

He also turned his talents to helping out the residents of Liverpool's most famous close, Brookside. In A Close Guide To... on Discovery Home and Leisure, Andy dropped into the "homes" of the residents and showed them how to do typical DIY tasks, along with hints and tips.

Andy is the main presenter on the popular UK Style programmes Room rivals, where he encourages top designers to compete with each other transforming peoples homes, and Garden Rivals, doing exactly the same but this time with gardens.

Following a successful maths series on BBC 2 for CBBC Education, Andy was chosen to present a new series of programmes called Weather, Place and People, which involved Andy visiting Worldwide destinations with extreme weather conditions.
You may also be interested in...