Andrew Marr
BBC politics presenter and former Political Editor for a variety of broadsheets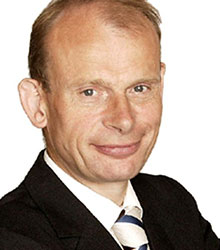 About
Andrew Marr is the host of BBC1's Sunday AM on BBC ONE, the agenda-setting interview programme. He moved to the programme after a five-year stint as Political Editor at BBC News.

Andrew also presents BBC Radio 4's Start The Week each Monday. He joined the Monday morning programme in November 2002.

Born in Glasgow, Andrew joined The Scotsman as a trainee and junior/business reporter in 1981 and became parliamentary correspondent in 1984 and political correspondent in 1986.

He worked for two years at The Independent, then returned to The Scotsman as political editor in 1986. He moved to become political editor at The Economist from 1988 to 1992. He then returned to the Independent as chief political commentator in 1992 and was promoted to editor in 1996. He became a columnist for The Express and The Observer in 1998 before being appointed as BBC political editor in May 2000.

Andrew Marr has had three books published: The Battle For Scotland (Penguin, 1992); Ruling Britannia (Penguin, 1996, 1998) and The Day Britain Died (Profile, 2000).

He was named Columnist of the Year in the What The Papers Say Awards of 1995 and Columnist of the Year in the British Press Awards of the same year.

He was named Journalist of the Year in the Creative Freedom Awards 2000 and received the Journalist Award in the Channel 4 Political Awards of 2001.

Andrew was named as the best individual contributor on television at the Voice Of The Listener And Viewer's Annual awards in 2002. He won the Royal Television Society Television Journalism Award in 2001 for specialist journalism on the BBC Ten O'Clock News. In 2004, Andrew received the Richard Dimbleby Award at the Bafta Television Awards.

Andrew lists his hobbies as reading (he was the chair of judges, Samuel Johnson Prize, 2001), painting, cooking and remembering his children's names.
Books and DVDs
Clients often ask about purchasing books for giveaways and delegate packs. Below you'll find a selection of products by Andrew Marr. Click the images to view on Amazon's website. For bulk orders, please speak with your Booking Agent.
You may also be interested in...