Andrew Fleming
Comedy vocal impressionist and Britain's Got Talent semi-finalist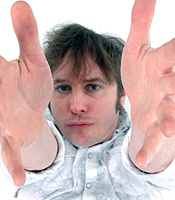 About
Andrew Fleming is a gifted mimic and vocal impressionist with an uncanny ability to conjure-up the true essence of the characters he impersonates. He is also the official Warner Brothers voice of Scooby-Doo in Europe and featured on Britain's Got Talent 2015, getting through to the live semi-finals.

On stage Andrew appears to physically morph into a myriad of celebrity personas, his voice rich with well-observed inflection. It is astonishing to witness one of the most accurate Frank Sinatra impressions you will ever see, only to change instantly to deliver a blistering Amy Winehouse.

On television Andrew was a guest on 'The Big Breakfast' where he won the viewers' vote for his impressions. On BBC2's 'Weekend' he played Tony Blair in a sketch, a live ad-lib session and as lead vocal/guitar in the super-group 'The PMs' featuring 'John Major' and 'Margaret Thatcher' on drums and bass. On BBC1's 'Speculate, Andrew inpersonated several 80's singers alongside the original artistes. He also presented the entertaining BBC3 documentary 'Dave Hugs Trees'.

As a voice-over artist Andrew Fleming was the official voice stand-in for Neil Morrissey's 'Bob the Builder' on the theatre version. For the 'Engy-Benjy' theatre show he sang for Ant and Dec and blended additional dialogue into their recordings in their absence. For television company 'Live in Five' Andrew immerses himself into the identities of numerous well-known public figures in unscripted, disciplined interviews with incredible authenticity. He specialises in providing vocals for non-singing 'names' in various theatre shows as well as recorded voices for shows such as The Mister Men. Andrew also provides the voice for corporate films and telephone services.

As a seasoned professional comedian with years of experience Andrew Fleming has a wide and varied repertoire of material, and is popular as a versatile act for private and corporate events.
Speech Topics
As a professional entertainer prior to appearing in the semi-final of Britain's Got Talent, Andrew Fleming has honed and polished a full evening show — offering a 20-30 minute performance featuring all his most popular impressions.
You may also be interested in...