Andi Peters
Television presenter, radio DJ and award-winning producer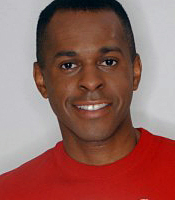 About
Andi Peters got his first taste of broadcasting when he worked Saturday mornings on an in-store radio station in London. At the age of 17 he landed a job as presenter of a 16 week outside broadcast show on ITV.

In 1989 Andi was offered a job presenting But First This (BBC) before moving to Sunday mornings to present CBBC2, a magazine programme for children. As well as presenting The O Zone, Andi spent two and a half years in the Broom Cupboard, linking the Children's programmes on BBC1.

Andi Peters presented the prestigious Smash Hits Awards in 1993, 1994 and 1995 and was voted Top Personality on TV for 2 consecutive years. He also co-presented Children In Need 1993 and 1994 with Terry Wogan and finished presenting his third series of BBC1's flagship Saturday morning show Live & Kicking in Spring '96.

Other presenting credits include: Good Fortune (BBC1), The Noise (ITV1), The Weekend Show Celebrity (ITV1), Eden (Ch4) and Rich and Famous (ITV1), Celebrity Extra (Living), City Hospital (BBC), specials for BBC Breakfast & Neighbours (BBC1), Dancing on Ice (ITV1), Andi Meets…., one on one in-depth interviews with celebrities including Ricky Martin, Britney Spears, Mariah Carey and Gary Barlow. One of his special interviews, Andi Meets Toy Story 2, led to Andi playing a cameo role as a character in the movie itself!

Along side his successful presenting career, Andy Peters is also a respected TV Producer - he began by producing and directing The O Zone and CBBC specials. Andy Peters has produced Gladiators - Train 2 Win, An Audience with the Spice Girls, An Audience with Kylie & Record of the Year. In March 1998 Andi joined Channel 4 and took on the venerable title of Commissioning Editor, Children and Young People where he created the award winning T4 and Exec Produced the highly successful cutting edge drama As If (Ch 4). From 2003 to 2005, Andi was Executive Editor, Popular Music for BBC Television where he over saw all their music output, including Top of the Pops Andi has also been the man responsible for the media training of Number One artists such as JLS, Spice Girls and Westlife.

Andi fulfilled a dream when he joined Capital FM in November 2002 where he co-presented "Hit Music Sunday" & later went on to present the Weekend Breakfast Shows for a number of years.

Whilst continuing to present "City Hospital", Andi undertook one of the biggest challenges of his life when he took part in the ITV1 hit show Dancing On Ice (2006). He might have been knocked out in week 2, but such was his popularity, he has returned to the ice to host the daytime spin off shows Dancing on Ice-Exclusive and Dancing on Ice Extra for ITV1. He also has hosted more than five sell out tours of the UK with Torvill and Dean & the Dancing on Ice Tour.

In 2008 he showed off his culinary skills by taking part in Celebrity Masterchef, beating tough opposition and making the final, but sadly, was pipped at the post to come a very close second!!

Most recently, Andi has hosted the Golden Globes coverage alongside Fearne Cotton for Sky One, hosted a weekly show for Heat Radio, as well as segments for This Morning (ITV1), Noels HQ and Market Kitchen. He continues be the host for the Invention Test for Masterchef Live and The Good Food Show.
You may also be interested in...