Rt Hon Alistair Darling
Labour politician and Chancellor of the Exchequer 2007-2010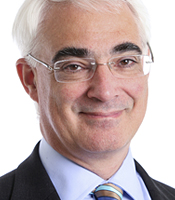 About
The Rt Hon Alistair Darling MP has been a Member of Parliament since 1987 and represents the Edinburgh South West Constituency. He served as Chancellor of the Exchequer from 2007 to 2010 during the worst global financial crisis since the 1930's Great Depression.

Alistair is one of only three who served continuously in the Labour Government's Cabinet from 1997 to 2010. He was initially appointed as Chief Secretary to the Treasury in 1997. Seen as a 'safe pair of hands', he became Secretary of State for Work and Pensions in 1998 and after four years in this Department he became Secretary of State for Transport and later Secretary of State for Scotland. His penultimate cabinet post was Secretary of State for Trade and Industry from 2006.

After he completed the Loretto School, Musselburgh, he was admitted to the University of Aberdeen where he graduated in 1976. In 1978, he became a solicitor and in 1984, he was admitted to the Faculty of Advocates (a body of independent lawyers who practise law as Advocates before the Courts of Scotland). Darling entered politics in 1982 when he was elected Councillor to the Lothian Regional Council and served as Chairman of the Transport Committee from 1986 to 1987. In 1987, Darling was elected as Member of Parliament for Edinburgh Central and has been elected ever since until 2005 when the Edinburgh Central was abolished. Since 2005, he is Member of Parliament for Edinburgh South West.

Following the General Election in May 2010, where he increased his majority, Alistair Darling announced his intention to step back from front line politics after 23 years on the front bench and to return to the back benches from where he would continue to serve his constituents in Edinburgh.

In 2011, he published his memoirs of the time he was Chancellor of the Exchequer titled Back from the Brink: 1,000 Days at Number 11. The book mainly deals with the government's response to the financial crisis but it also reveals a lot about the atmosphere in the Labour Party under Gordon Brown.

Alistair is currently Chair of the Better Together Campaign which is a cross-party campaign that promotes the view that Scotland is a better and stronger country as part of the United Kingdom. He divides his time between Edinburgh and London.
Tags for Rt Hon Alistair Darling
You may also be interested in...